As a call center, having an internal compliance team is typically a necessity from a compliance and quality standpoint, but it also gives you the opportunity to ensure that you are achieving compliance before an outside regulatory agency or client gets involved.
To ensure your team is effective, you need to make sure each part of your department is properly trained and well-versed in all compliance nuances. By building an effective internal compliance team you can potentially avoid completely relying on attorneys, which will save you money and time in the long run.
Hiring
When it comes to creating an effective compliance team for your call center, you'll want to start by hiring the right people. For your whole team, you want people with experience, knowledge, and intrapersonal skills. Of course there are other things you'll want to consider for a leadership role.
Experience
Preferably you want people who have worked on a compliance team before and have the ability to foresee potential problems and can offer solutions while you're still in the planning stages. If this isn't an option for you or you prefer to hire from within, your candidate should immediately start compliance training.
Most industry trade organizations offer some type of compliance officer training program at a relatively low cost. These types of designations will also give your compliance department head credibility in the eyes of an auditor.
Knowledge
Having comprehensive knowledge of the current rules and regulations that pertain to your particular call center's area of expertise is imperative for anyone on your compliance team. Your compliance department head should always have his or her ear to the ground and should have subscriptions to industry trade websites, blogs, and regulatory alert services in order to stay up-to-date on current compliance and litigation trends.
Over time your department head will also build an expansive compliance network of attorneys and other compliance professionals that can be used as a resource.
Intrapersonal Skills
Dealing with compliance can sometimes present very complex problems, but having people with excellent communication skills can help the entire team to stay focused on the task at hand. Employees with training and development backgrounds typically fit into this roll particularly well because they are already familiar with the inner workings of your company or they will be able to adapt and understand them very quickly and they have excellent public speaking and communication skills.
Leadership
The other thing you'll want to consider is who you hire to be in charge of the whole operation. Think department head. Someone that has worked for you for a long time and is familiar with your company's operations is preferable, but the right outside candidate will be able to adapt quickly if other members of your team are already familiar with your company's processes and procedures. This someone will need to own every process and procedure in your company. They should be able to understand and want to resolve every potential compliance shortcoming your company has to the point where they are able to speak about them and how they are working to remediate them ad infinitum to any outside party that might inquire about them. Remember, any outside party that audits your company will expose at least some of your compliance shortcomings.
Training
Even if you hire the best team possible, you're still going to want to continue to grow them as individuals on your compliance team. That's why it's vitally important that you have a comprehensive training program. You'll want to focus on these factors: company policies, compliance regulations, and implementation tactics.
Company Policies
As a company, you're likely often changing your internal compliance policies and procedures to achieve maximum effectiveness. Review these updates with your compliance team so they're in the know. Any directives that will affect your call center agents can then be communicated in a simple and effective manner and can then be reiterated and enforced by your compliance team through call monitoring and training.
Compliance Regulation
When the rules and regulations are ever-changing, your compliance team's knowledge base needs to be just as flexible. Keep them up-to-date with the most recent changes. Your compliance department head should send weekly updates to your executive management team and your compliance team regarding any compliance trends that have come to light that need to be either addressed immediately or at least monitored so that you are ready to make a change at a later date if needed.
Implementation Tactics
What is the best way for your compliance team to help your agents achieve compliance? Your team needs to become skilled in live monitoring and providing real-time feedback to your operations team (real time is the key). They should be adept at conducting special project audits to ensure that new compliance directives are being adhered to and reinforced by your operations team. Your department head should also be skilled in employee relations in the event that your agents would need to have disciplinary action issued in order to correct any compliance failures. These are the skills you want them to build up and work on regularly.
Evaluation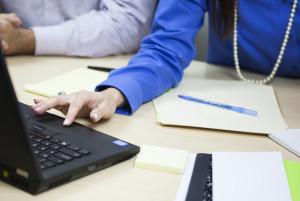 Ensuring that any team is effective in your business requires timely evaluation of their effectiveness. This is especially important when it comes to your compliance team. You'll want to examine whether your team is effective, efficient, and profitable.
Effective
Is your compliance team improving your company's ability to stay compliant? Has your number of infractions changed since implementing the team? All internal audit, external audit, regulatory complaints, and incoming litigation results and costs should be tracked in detail in order to identify trends and act upon them accordingly.